---
Veretekk — Leading Edge Marketing Technology
Veretekk is a cutting edge, 100% SPAM-free LEAD GENERATION program. No where else will you find "real" leading edge marketing technology like you will receive from Inetekk's Veretekk service. Traffic Portal marketing is one such innovation.
Just one example of these powerful traffic portals is the Blast-O-Matic Portal - 2 BILLION plus Ads with one click! And you can use and give away the original 12 million ads Blast-O-Matic Ad Submission Program. It is the most powerful AD submission system in the world - and best of all, you get to give it away for FREE! No other AD submission service can compare to the "high-tech" service your prospects will recieve from Blast-O-Matic. You'll learn more about this powerful program in your Basic Silver Training.
Go to the Veretekk Web Site and click on the "Portals" tab to hear a quick audio introduction and learn more about traffic portals. Jump to the bottom of this page for examples of Traffic Portals.
   A Quick 12-Step Program for Getting Started Using VERETEKK
Go to http://wojcik.veretekk.com/ and sign up (Click "Sign Up" on the silver menu bar to get started).

(You will then change the above sentence to whatever your unique Veretekk URL is when you tell people to sign up, and they will in turn change it to theirs when they tell people, and so on and so on.)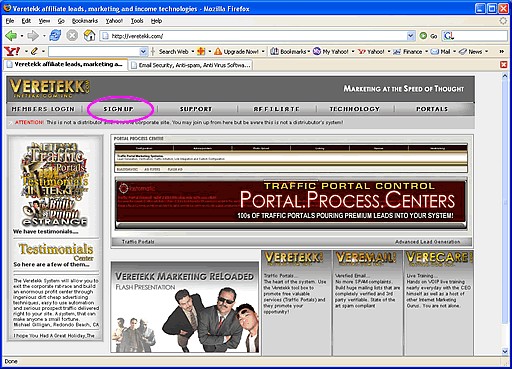 Choose a Username. Your Username will be part of your Veretekk URL and Veretekk e-mail, so choose wisely.
F ill in the rest of the information, then click on "Drive away Today".

Go check your e-mail. If you have a spam control program like MailWasher (Mail Washer Pro) be sure to add to your Friends List or Whitelist the following 2 domains:
veretekk.com
inetekk.com
(Inetekk is the parent company of Veretekk).

When you receive the e-mail with the Subject line "Here is your Veretekk site information!" read the entire
e-mail, but then go to http://wojcik.veretekk.com to log in with the Username you signed up with and the password they provide in this e-mail. (Your unique affiliate URL will take up to 24-hours to be fully created for you, but you can log in here for now.)

This time click on "Members Login":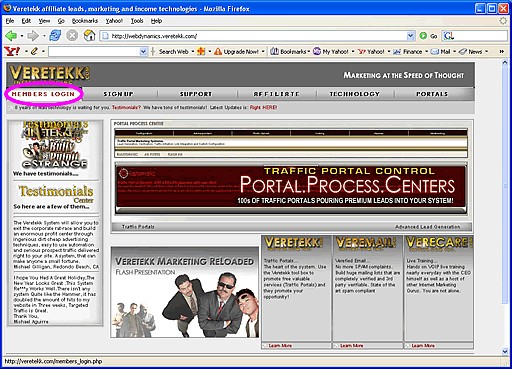 Enter your Username and paste in the password from your welcome e-mail and Sign In: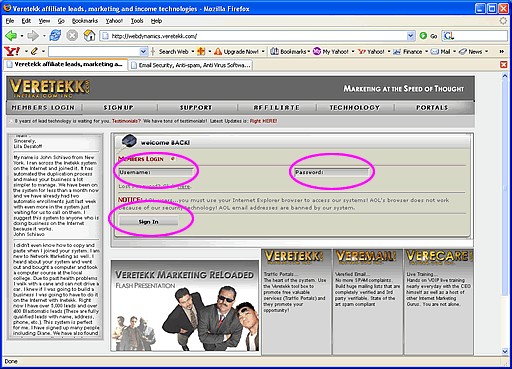 Continue to your Back Office: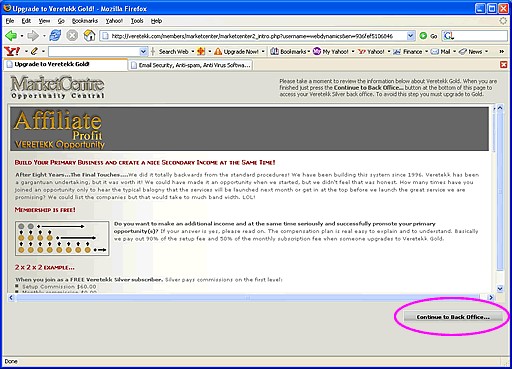 Listen to the audio message, then scroll down to get to the Training Calendar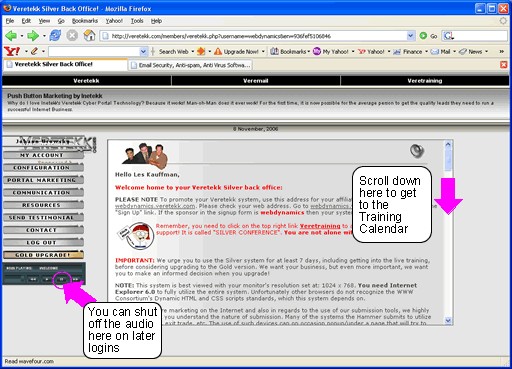 Find a Training Date for Silver Basic Training Part 1 and Silver Basic Training Part 2
Once you find an available date that you can attend, go to your Back Office and click on "Veretraining" ...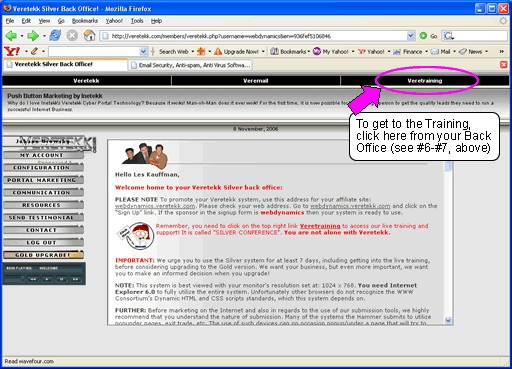 ... to access a different set of left-hand navigation buttons. Then click on "General":

First time, install the interactive voice client software, then click on "Enter General Training"
(or "Apple User" for Mac users):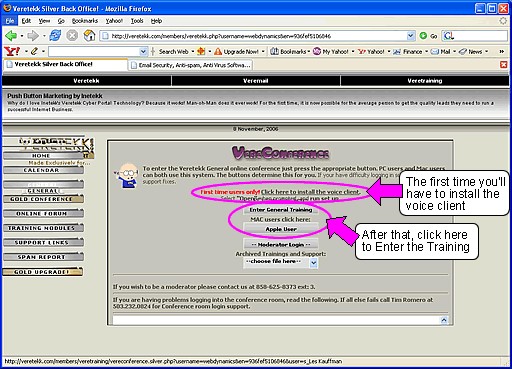 After doing those 2 Trainings, GO FOR THE GOLD! *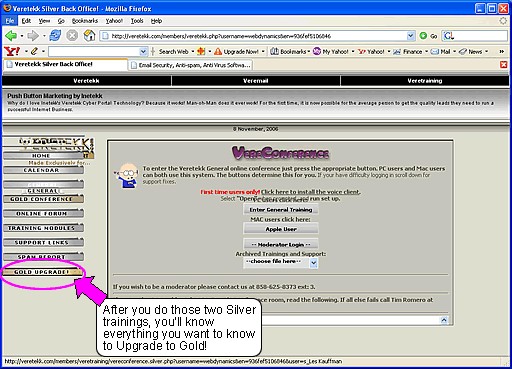 promote and harvest leads for your Veretrekk Affiliate program; with Gold,   
 Silver Level only allows you to  you can promote and generate leads for any business you want (and you also get paid more for the
   Veretekk Affiliate program. For the full compensation plan, go to the Veretekk Web Site and click on the "Affiliate" tab).
Free Web Site and Marketing e-Books from Veretekk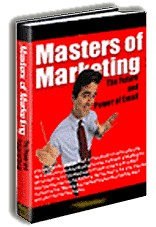 Your Veretekk Marketing Portal:

Affiliate Site

 
Your Veretekk Traffic Portals:

1st Classifieds

Big Kahuna

Blastomatic

Computer Giveaway

Daily Message Online

eTracking

FFA Farm

Free FFAs

Free-Mart

Free Page

Money Machine

Sohomatic

Spam Wars

Vacation 4 Free

Veremail

VereTracking

WebCatch

 
Your Veretekk Profit Portals:

ISP-4-FREE

Leadsomatic

VereConference

Click to join new_veretekk
Join My ICQ Group: One World - One Language
Join My ICQ Group:
Veretekk